Professor of Military Science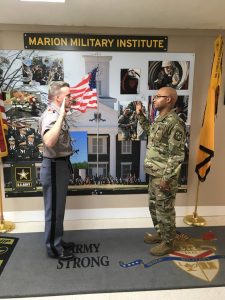 Lieutenant Colonel Cory D. Armstead is from Jackson, Alabama and enlisted into the Alabama National Guard in 1994 as a 91C Utilities Equipment Repairer. Upon completion of initial active duty training, he attended Marion Military Institute in Marion, Alabama and received an Associate of Arts degree in General Studies as well as his commission as a Second Lieutenant in 1997. As a newly commissioned lieutenant, he served in the Alabama National Guard as a Ground Support Equipment Platoon Leader and Detachment Commander for the 778th Maintenance Company, 731st Maintenance Battalion. LTC Armstead received his undergraduate degree in 2001 and entered active duty with orders to participate in the Army Branch Detail Program with a detail branch of Chemical Corps and a basic branch of Ordnance (Logistics).
LTC Armstead's first active duty assignment was as a Chemical Officer for 3-327 Infantry Regiment, Fort Campbell, Kentucky. He deployed to Iraq in support of Operation Iraqi Freedom in this capacity. While deployed, he transitioned to his basic branch and became the Support Operations Maintenance Officer for 801st Main Support Battalion. Upon return from deployment, the 801stMain Support Battalion transformed to a Brigade Support Battalion and LTC Armstead served as the Support Operations Plans Officer where he deployed to Iraq in support of Operation Iraqi Freedom 05-07and later commanded the Headquarters and Headquarters Company. Subsequently, LTC Armstead accepted a joint assignment with the NATO Communications and Services Agency in Brunssum, the Netherlands and served as both Chief of Plans and Operations for the NATO CIS Logistics Depot. Following his overseas assignment, he completed the U.S. Army Command and General Staff College (CGSC) and received his Masters of Arts from Webster University in Procurement and Acquisition Management. In July of 2011, he was assigned as a Brigade Logistics Support Team (BLST) Chief for 407th Army Field Support Brigade, Fort Hood, Texas. In May of 2013, LTC Armstead was assigned as the brigade S4 for 2nd BDE, 1st Cavalry Division where he deployed to Afghanistan in support of Operation Enduring Freedom. Soon after deployment, he was re-assigned to the Mission Command Training Program, Operations Group Charlie, where he has served as a Sustainment Observer Coach/Trainer and Chief of Operations. Currently, LTC Armstead is the Professor of Military Science for Marion Military Institute.
LTC Armstead's military education consists of the Chemical Officer Basic Course, Combined Logistics Captains Career Course, phases I and II of the Support Operations Course, and phases I and II of the Defense Support of Civil Authorities Course. He is also a graduate of the U.S. Army Command and General Staff College.
His military awards and decorations include the BSM (1 OLC), DMSM, MSM (1 OLC), ARCOM (1 OLC), Iraq Campaign Medal (4 Stars), Afghanistan Campaign Medal, Global War on Terrorism Expeditionary Medal, Global War on Terrorism Service Medal, Army Service Ribbon, Reserve Overseas Training Ribbon, and the NATO Medal. He also earned the coveted Parachutist and Air Assault Badge.
Lieutenant Colonel Armstead and his wife Erica have five children: Cody, Nathan, Destinee, Kennedy, and Aidan.