Cadet Aviators Achieve Solo Status in Less Than 2 Weeks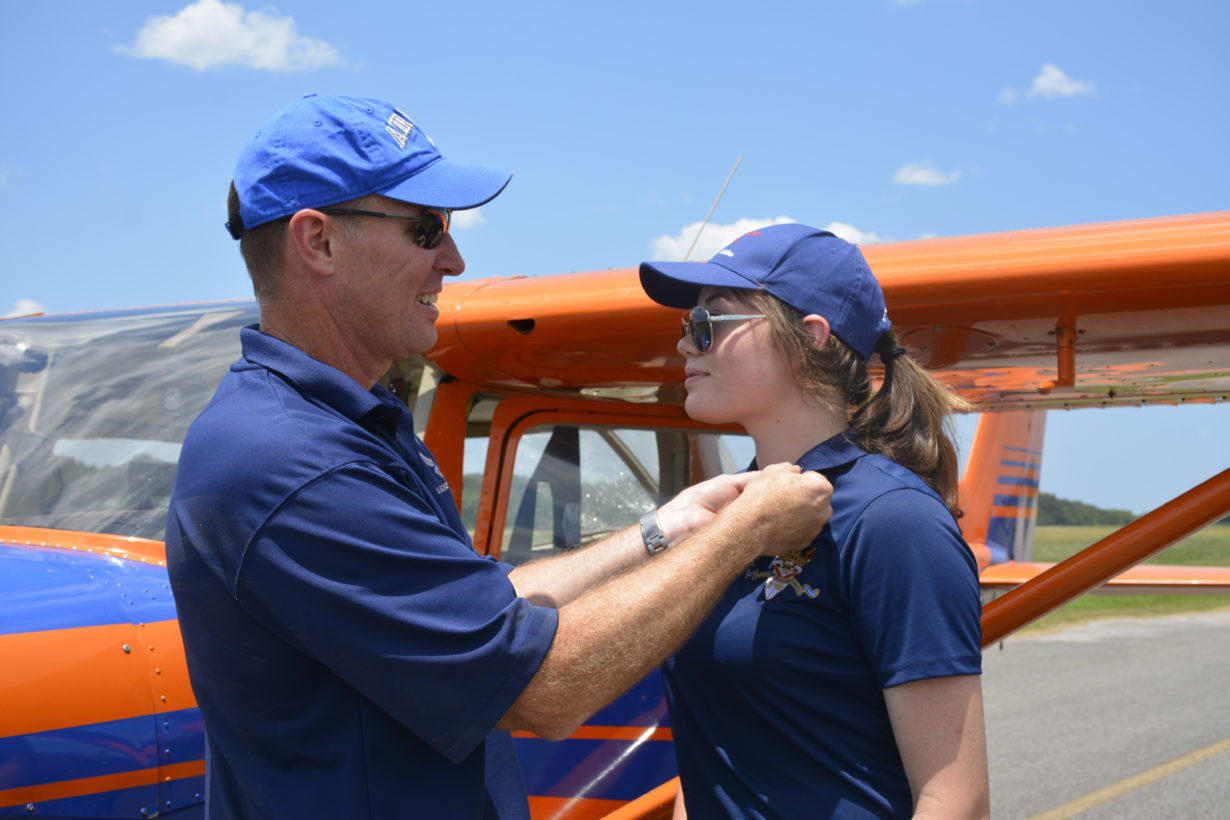 MMI Becomes Training Site for ACE Program
Two freshmen in MMI's 2019-20 Service Academy Program reported to campus weeks earlier than their counterparts to begin their U.S. Air Force ACE pilot development program. Following their Monday afternoon arrival in Marion, program director Col. Bill Hansen, USMC (Ret) and flight instructor Col. Warren Benjamin, USAF (Ret) had Mika Cutler and Kelsey Majkowski making their first take-offs Tuesday morning.
With near-perfect flying weather at local Vaiden Field, both students were able to achieve a significant milestone very early in their training: On Day 10, Cadet Majkowski completed her first solo flight in a Cessna 150.  Her classmate, Cadet Cutler, achieved solo status the very next day. This was quite an accomplishment in what was expected to take a month's time. Both are U.S. Air Force Academy-sponsored Falcon Scholars who have since been awarded MMI Foundation flight scholarships to continue their flight instruction in Marion.
The ACE program was created to help combat the growing pilot shortage in the Air Force by introducing aviation to high school and college students. Although the program is designed to motivate all students who are interested in becoming pilots, the Air Force is particularly interested in increasing its diversity among the pilot corps by encouraging women and minorities to pursue careers in aviation.
COL Ed Passmore, USA (Ret), V.P. for Student Affairs, is proud that MMI is currently the only institution successfully combining the ACE and Air Force Academy Falcon Scholar programs:  "This results in the Air Force and Air Force Academy receiving cadets who already have demonstrated the desire, will and capability to be a pilot and succeed at the Academy. This is a win for all involved!" he notes. "MMI is doing its part in providing pathways for motivated young adults to fill the growing critical need for both civil and military pilots. We have had a long-standing and well-known FAA-certified flying program for our service academy cadets, and we also have pathways for those who would like to enter commercial aviation."