Brigade Honored Teachers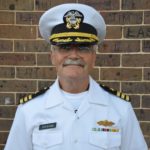 Teaching general chemistry at MMI since 2006, Dr. Sam Stevenson has twice been recognized by the Institute as Faculty Member of the Year (2007 & 2011) in addition to receiving the Chancellor's Award for Excellence in Teaching (2011). Over the past 12 years, MMI cadets have been privileged to have an influential instructor who not only makes chemistry exciting but brings a broad industry background into the position.
Prior to joining the MMI faculty, Dr. Stevenson worked for Eastman Chemical Company (as a Kodak Fellow) in research and development, Gist-brocades/IBIS (Netherlands-based) in the Enzymes Division, and the American Chemical Society (ACS), where he was principal investigator for a $1.25M grant for defining competencies in technician training and establishing the ACS ChemTechLinks program. He is also responsible for developing national skill standards for U.S. pulp and paper industry workers as well as pharmaceutical laboratory analysts.
Dr. Stevenson's post-doctoral areas of study include polymer synthesis, material science, drug synthesis, computer modeling and high-field NMR structural analysis proteins, carbohydrate enzymology, and occupational skill standards; he is also the author of several peer-reviewed papers, including one general chemistry textbook, and 40+ corporate in-house proprietary papers and technical reports.
Currently chairing MMI's Math & Science Department, Dr. Stevenson holds a BS in Chemistry from Northern Arizona University and a Ph.D. in Organic Chemistry from the University of South Carolina. His former community college teaching experience includes Northeast State Technical (TN) and Alabama Southern. Cadets taking his general chemistry course—taught to national standards set by the ACS and aligned with the equivalent at West Point and the Naval Academy—have been performing in the 52nd-72nd percentile on the national ACS standardized exit exam. When student demand warrants the course, he teaches organic chemistry to a select few.
Military experience precedes his civilian career: Dr. Stevenson enlisted in the Navy during the Vietnam War and served as a hospital corpsman; he stayed in the Navy Reserves through college. As such, he serves as the U.S. Naval Academy & U.S. Merchant Marine Academy advisor for MMI's Service Academy Program and has counseled countless cadets pursuing NROTC and maritime paths.
"A lot of the joy in this job is the mission of the college and the quality of the students that I get," he says, citing MMI's rigorous curriculum.
Outside of the classroom, Dr. Stevenson sponsors the MMI SCUBA Tigers, partnering with Southern Skin Divers Supply of Birmingham (Est. 1953) for certification and training. He especially enjoys introducing cadets to a recreational skill that can become a lifelong hobby—he's been diving since he was a teenager and is now an SDI-Certified Open Water SCUBA Instructor. "It's great just to get off campus for the weekend. It gives them something to do besides study," he says. SCUBA Tigers trips typically take place on the Gulf Coast and range from manatee dives to reef dives to spearfishing for triggerfish, snapper, grouper and highly-invasive lionfish. With an interest in aviation, he also helped develop the MMI Flying Tigers (certified flight training) before turning the program over to co-founder COL Bill Hansen, USMC (Ret). For several years, he has hosted a voluntary seminar series on intelligent design, another area of interest. He and his wife, Dr. Susan Stevenson, MMI's Executive Vice President, are both active members of St. Wilfrid's Episcopal Church in Marion and are proud new grandparents.
If you talk to Dr. Stevenson in his lab, however, his passion for chemistry takes center stage and you will likely learn more about something on the molecular level—such as chirality in amino acids. When asked about his chosen field of study, he replies: "Chemistry touches all aspects of our life. It is the foundation of how matter interacts with itself in very predicable ways."
Many of his former students have articulated the impact Dr. Stevenson has on their education, such as Patrick Wheeler (Coast Guard Academy '20) in this congratulatory message: "Dr. Stevenson, you are without a doubt the greatest teacher I have ever had the pleasure of learning under. Whether it be your lessons in the classroom or the life experiences you would impart to us on SCUBA trips, I have grown much as both a man and as a military officer as a result of the impact you have had upon my life. Thank you for all that you do, may you continue to teach hundreds more about life, Chemistry, and diving! God bless you, Sir."
IN MEMORY: Brigadier General Walter K. Kastenmayer, USA (Ret.) was described by former cadets as possessing a selfless kindness, persistent optimism and unwavering belief in his students. As an instructor and Service Academy Program advisor for 18 years, he helped cadets navigate the often-difficult path to securing an Academy appointment. BG Kastenmayer instilled the valuable lesson of having a plan, and then a backup plan, and was never afraid to let his students know his true opinion.
BG Kastenmayer received a BS in Chemistry from St. Benardine of Siena College and master's degrees in Organic Chemistry from the Univ. of Virginia and in Management from the Army War College. Before teaching at MMI, during his 30 years of Army service, he was an instructor at the U.S. Army Chemistry School as well as an Assistant Professor of Chemistry and Academic Counselor at West Point. He had extensive public speaking engagements including the U.S. Congressional Caucus on the U.S. Chemical Stockpile Disposal Program and NATO Defense Planning Committee on Logistical Sustainability of Europe.
BG Kastenmayer passed away on April 1, 2019 in Charlottesville, Va. His wife Ruth said that he always loved MMI and their time spent in Marion.
Alumni Brigade Honored Faculty/Staff Award Recipients
2019 – BG Walter W. Kastenmayer, USA & Dr. Sam Stevenson
2018 – David P. Ivey
2017- Winifred Cobbs
2016 – Sheldon "Buzzie" Fitts
2015 – Johnny McWilliams, COL Carlton and Geraldine Vaden, Clayton "Dead Eye" Posey
2014 – COL Lewis M. Stewart, USA (Ret), COL John Gibler, USA (Ret)
2013- LTC Joe Berry, USA (Ret), R.L. Coleman, Myra Jean Hopkins
2012- John E. Boyd and COL Ralph Livingston
2011- Chaplain James Waters, COL E.E. Marsh, Col. James Jackson, and COL Stuart Harris
2010- LTC David W. Bauer, USA (Ret), LTC Carlos G. Lewis, USA (Ret)
2009 – Deborra Long Street
2008- Marshall Knudsen, Mary Rankin Brooks
2007- Molly Thornton, Mrs. Susan Wilbourne
2006 – COL James Thomas Murfee III, Frank Marshall, Paul B. Robinson, Ramsey Trawick, COL James O. Wade