Commandant's Bio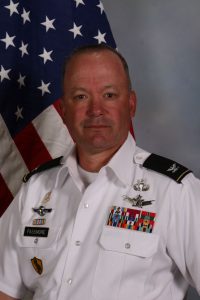 Colonel Edwin W. Passmore completed 31 years of active duty in the United States Army in February 2013.  During his career he served as a Tactical Intelligence Officer in Airborne and Special Operations units; as a Strategic Intelligence Officer with the US Space Command as well the Intelligence Advisor to the Kuwait Ministry of Defense, supporting OPERATION IRAQI FREEDOM, where he was responsible for the integration of intelligence reporting systems to coalition forces.  During OIF he also conceived, organized and led Task Force Hope.  Composed of Kuwaiti personnel, TF Hope was responsible for the recovery of the remains of over 400 Kuwaiti and third country nationals missing in Iraq since the first Gulf War.  From OIF Ed deployed to Afghanistan where he served as the Chief of Staff for the Office of Security Cooperation.  Ed was responsible for the organization, training, and equipping of the Afghan Security Forces and oversaw the successful integration of the Afghan Police Program in support of OPERATION ENDURING FREEDOM.
In 2005 he completed three straight years deployed in support of combat operations.  During the last half of his military career Ed Passmore was a Latin American Foreign Area Officer.  In this capacity he worked at the US Southern Command and has been a member of the embassy country teams in Uruguay, Brazil, and as the military group commander in Venezuela, and Argentina.  Upon retiring after 30 years of service Ed was immediately recalled to active duty to serve as the Army Attaché in Mexico.  Over his career Ed has worked in every country in South and Central America and the Caribbean.
Ed's military education includes being one of only three Senior Army Fellows, completing his fellowship at Harvard's Weatherhead Center for International Affairs in 2008.  He is a graduate of the US Army War College and Defense Intelligence College's Post Graduate Intelligence Program.  Other training includes Infantry and Military Intelligence officer basic and advanced courses among others.
Ed has earned master degrees from Georgetown University (Latin American Studies) and the United States Army War College (Strategic Studies).  He received his undergraduate degree from the University of Connecticut in Political Science.  Ed was a Distinguished Military Graduate of UCONN's ROTC program and was inducted into the inaugural class of the US Army ROTC Hall of Fame in 2016.
Ed established his own international/security affairs consulting firm, SanTak Consulting, in 2012.
Ed is married to Susan (Nichols) and they have two adult daughters, Renee and Abigail.  They built (by hand) a retirement home on the family farm just outside Marion, Alabama.