Presidential Support Council
The Presidential Support Council (PSC) provides an opportunity for Marion Military Institute (MMI) alumni and friends to be more directly engaged and connected with MMI through recurring awareness and information sharing about current and future MMI plans and operations.
PSC members support MMI's mission by serving as good ambassadors in their various local communities on behalf of MMI in order to expand awareness about MMI, to cultivate new MMI supporters, and to connect and engage with private and public decision makers to influence and generate opportunities for additional support.
For more information, contact Suzanne McKee, who serves as the Executive Director for the PSC.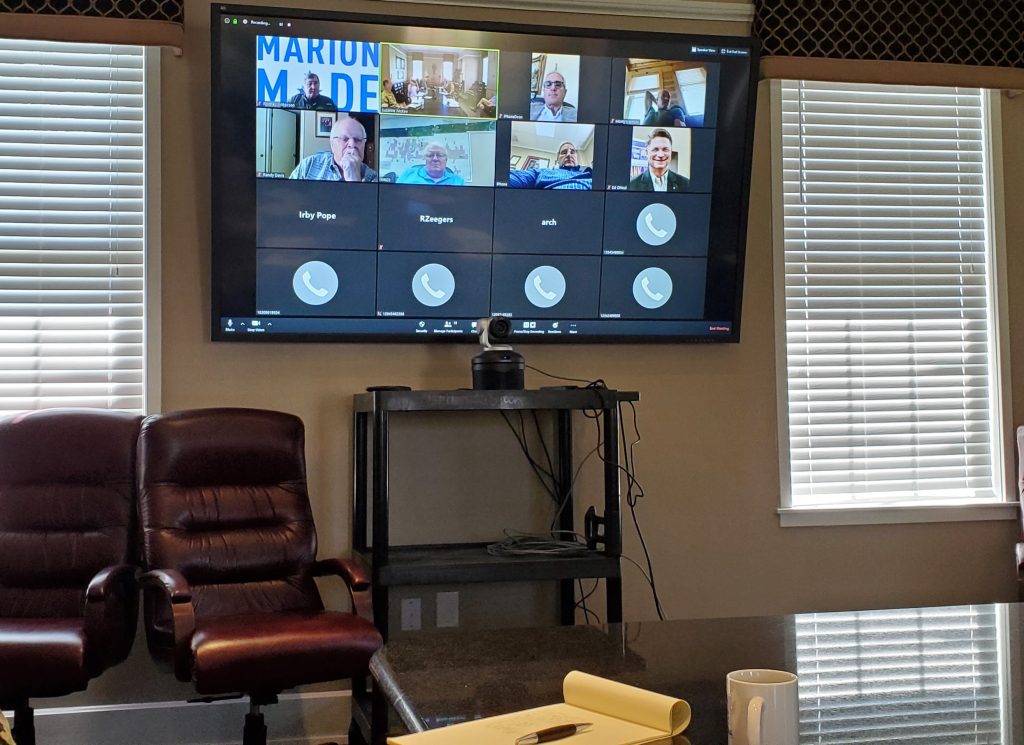 Members participating in the May 1, 2020 Zoom meeting.
CHAIRMAN
Mr. Edward Allan O'Neal Jr.
Boaz, Alabama
VICE-CHAIRMAN
Mr. Roy J. Crawford
Birmingham, Alabama
SECOND VICE-CHAIRMAN
Mr. William H. Satterfield Jr.
Birmingham, Alabama

MEMBERS
Mr. John Walter Anderson Jr.
Marion, Alabama
Ms. Lucile Banks
Eutaw, Alabama
Mr. Charles L. (Ford) Chambliss Jr.
Mobile, Alabama
Mr. George Clark
Montgomery, Alabama
Mr. Randall K. Davis, Sr.
High Point, NC
Mr. Robert Washington Ennis IV
Tuscaloosa, Alabama
BG William D. Frink, Jr., USAR (Ret)
Pulaski, Tennessee
Mr. Samuel P. Givhan
Safford, Alaama
Mr. Logan B. Gray
Titus, Alabma
Mrs. Chris Bennert Green
Northport, Alabama
Mr. William K. Griffin III
Jackson, Mississippi
Mr. Luther P. Hallmark
Demopolis, Alabama
Mr. Eugene N. Harris
Marion, Alabama
Dr. Richard A. Keller, USA (Ret)
Fair Oaks Ranch, Texas
Mr. David Patrick Kelley
Mobile, Alabama
Mr. Archibald (Arch) McDowell Lee
Montgomery, Alabama
MG William Shane Lee M.D., USAR
Marion, Alabama
Mr. Michael C. McCray
Greensboro, Alabama
Mr. John S. Meriwether, Jr.
Mountain Brook, AL
MAJ A. Brian Miller, USA
Alabaster, AL
Dr. Hugh "Monty" Monteith III
Senatobia, MS
Mr. Michael E. Pegues
Montgomery, Alabama
LTC Thomas Irby Pope III, USA (Ret)
Marion, Alabama
LTC Lucius Rayfield USA (Ret)
Marion, Alabama
Mr. James H. Sanford
Prattville, Alabama
MAJ Rodney B. Wilkerson USA (Ret)
Daphne, Alabama
Mr. W. Hal Williams
Luverne, Alabama
Mr. William Rex Zeanah
Tuscaloosa, Alabama
COL Randall M. Zeegers, USA, (Ret)
Morris, AL