Scuba Tigers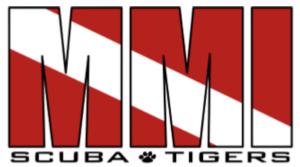 Marion Military Institute started the Scuba Tigers in 2012 as a way to allow cadets to become Open-Water scuba certified. Scuba training requires 2 weekends (4 full days consisting of classroom lectures and pool training at MMI) followed by a weekend of check dives in Panama City, FL. Subsequent NITROX (oxygen mixtures above the normal 21 percent)​ certification is available at MMI for certified divers who want to experience more time in the water during each dive. Coupled with NITROX certification is additional training in spear fishing. This organization allows students to acquire their own gear as well as learn from some of the best instructors available. Birmingham-based Southern Skin Divers Supply conducts the certified training.
Cost – See the FAQ document below for approximate training & equipment costs.
Travel Opportunities – The Scuba Tigers Club offers several diving trips a year to the Gulf Coast of Alabama & Florida through Southern Skin Divers Supply. Check out recent trips on their Facebook page. 
Interested in joining the Scuba Tigers?  Email :mmiscubatigers@marionmilitary.edu