Act of Kindness Sparks $5 Million Donation to MMI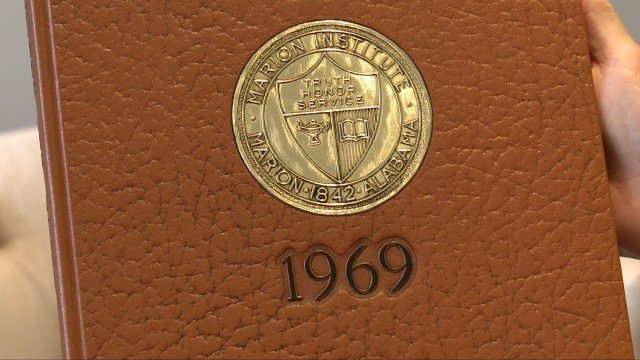 A simple act of kindness by two MMI folks: the archivist and a young alumnus set in motion a major gift to MMI in summer 2021.
Marion Military Institute has a long, rich history as the oldest military junior college in the country.  The alumni are passionate and dedicated and provide donations to many different efforts to make the quality of life better for the Corps of Cadets.  You never know what may come as a result of doing a small favor, which is exactly what happened to MMI Archivist Vanessa Nicholson.
Vanessa is accustomed to responding to MMI alumni who have lost their yearbooks.  As long as she has more than two extra copies, she will is able to accommodate. At the beginning of this year, she received an e-mail from an alumnus the school had never heard from before who was from San Antonio, TX. He finished MMI in 1969, and he had lost his yearbook.  Unfortunately, Vanessa only had two, so she could not let one go.
Then she received a call from MMI alumnus 1LT Matthew Eimicke, USA, MMI Class of 2015.  Matthew was working in a thrift store before his current deployment to Poland and found a box that contained some MMI yearbooks. He said, "I was honestly so surprised to see those come through; I called Mrs. Nicholson and mailed her the yearbooks. I always loved the MMI Archives and wanted to make sure our history is back in a safe place. "
As Vanessa sorted through the yearbooks, as a twist of fate would have it, there was a 1969 yearbook. She remembered the request from the alumnus in San Antonio and promptly put it in the mail.
A few months later, MMI Public Information Officer Marietta Holmes sent out the quarterly e-mail newsletter and received a reply from Dr. George Rapier from San Antonio, TX.  Dr. Rapier's e-mail said, "Hello, this is George Rapier. I was in the HS class of 69. I recently wrote and asked if any 1969 yearbooks were available. Incidentally, a donor had recently donated a number of items that included a 1969 yearbook which you kindly sent to me. Wow." He told Marietta that he had been getting her newsletters for many years and had never responded or donated items. He continued saying, "Believing everything happens for a reason, now must be the time." He asked her to refer him to someone who handles donations for MMI, and Marietta passed along his note to Suzanne McKee, Vice President for Advancement, who began the dialogue, along with Development and Grants Officer Susanna Barnes, about exploring how he would like to help the school.
Suzanne has been with MMI for 17 years and has experienced several other unexpected major donations, but for a school the size of MMI, any gift makes a big difference, and the possibility of a donation from Dr. Rapier was exciting because he was clearly interested in doing something significant.
Dr. Rapier requested a list of ways he could help the school, so MMI's president, COL David Mollahan, USMC (Ret), worked with Suzanne to create a robust list of projects providing many options for different levels of funding. His reply was simple and direct, "Please use the funds as you best see fit. You will receive a check from a fund called "For the emotional, spiritual and physical good, (ESP). God bless America."
The envelope arrived, and the president and entire Advancement staff watched Suzanne open the gift. The check was for $1,000,000! Through teary eyes and laughter, Suzanne and the president recorded a video message to send back to Dr. Rapier, expressing the joy and appreciation of the entire school for his unexpected generosity.
As it turns out, Dr. Rapier is a well-known philanthropist in the San Antonio area and other parts of the world. He has even been featured on ABC's "The Secret Millionaire," a reality television show in which millionaires go incognito into impoverished communities and agree to give away substantial sums of money.
Suzanne pointed out, "You never know when going the extra mile and providing a simple act of kindness is going to result in an enormous payback. MMI has now experienced its own "Secret Millionaire" moment, and Dr. Rapier is now part of an elite few who will go down in our history as making the most significant philanthropic impact."
UPDATE – In late September 2021, Dr. Rapier surprised the MMI administration with yet another major gift: an additional $4 Million, half of which was earmarked for an endowed scholarship. His second donation to the MMI Foundation was revealed at the weekly senior staff meeting and was received with a wave of gratitude by all present.