Ala. Military Hall of Honor Inducts Two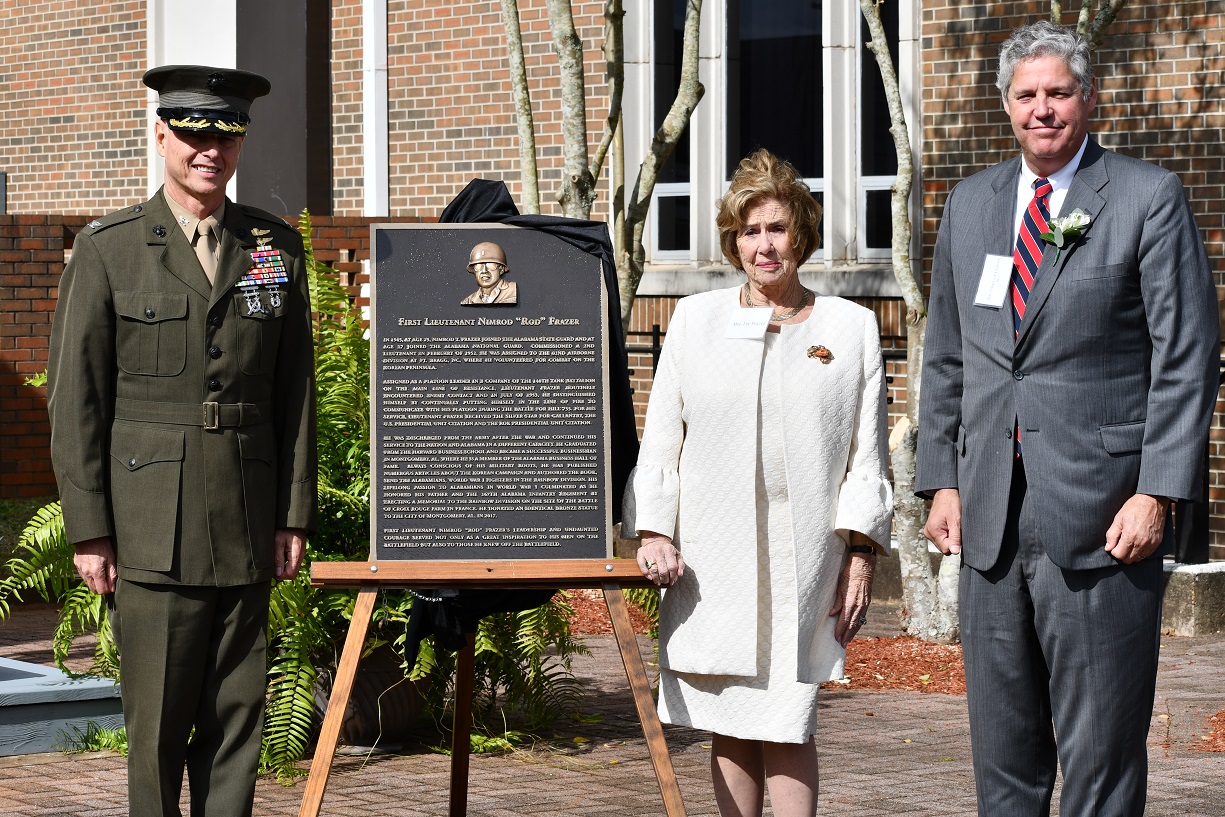 On Friday, Nov. 5, the Alabama Military Hall of Honor, located on Marion Military Institute's historic campus, conducted an induction ceremony for Brig Gen Harry C. "Heinie" Aderholt, USAF and 1LT Nimrod T. Frazer, USA. Family and friends of these Alabama veterans were in attendance to memorialize their service and achievements.
Sponsoring the late Brig Gen Aderholt and speaking at the occasion was Maj Gen Walter D. Givhan, USAF (Ret), Senior Vice Chancellor for Advancement and Economic Development at Troy University. After conveying his congratulations to the Frazer family, Maj Gen Givhan set the tone to honor a giant in the development of U.S. military capability, affectionately known as "Air Commando One," who lived up to the ideals of courage, innovation and leadership:
"Heinie was a pioneer in covert air operations. He worked with the CIA, with native forces, with joint forces, and with anyone who could assist them with their special and unconventional air warfare," said Maj Gen Givhan. "He and his airmen flew whatever aircraft were required to accomplish the mission, whether they were older World War II aircraft like A26s or specialized aircraft like the Helio Courier U-10. For all of his innovation and creativity in special air warfare, Heinie became known as one of the godfathers of today's special operations forces and tactics."
Attending as 1LT Frazer's sponsor was Mr. Bob Geddie, founding partner of Fine Geddie Government Relations in Montgomery, who praised the combat veteran for his countless civic endeavors and perhaps his greatest contribution to the military: authoring a book that traced his own father's 167th Infantry Regiment through the bloody fields of France in WWI.
Because his father was unable to attend in person, Mr. Nimrod Frazer, Jr. shared some of his highest military and business accolades along with the inductee's prepared remarks: "Those fellow soldiers who died young, in the 140th Tank Battalion in Korea in 1953 were his heroes. He has never forgotten them," said his son.
Representing the inductees for their plaque unveiling were Mrs. Anne Aderholt, Mrs. Lee Frazer and Mr. Nimrod Frazer, Jr. The following are summaries of their inscriptions:
BRIGADIER GENERAL HARRY C. ADERHOLT, USAF
Brigadier General Harry C. Aderholt was born in Birmingham, Alabama on 6 January 1920. He graduated from Army Air Corps pilot training as a Second Lieutenant in May 1943 and went on fly combat missions in World War II, the Korean War and the Vietnam War. General Aderholt significantly contributed to pioneering Special Air warfare techniques and operations and imparted an unconventional, unorthodox "can do" mission accomplishment warrior spirit to generations of USAF Special Operators.
FIRST LIEUTENANT NIMROD T. FRAZER, USA
First Lieutenant Nimrod T. Frazer was born in Montgomery, Alabama on December 10, 1929 and joined the Alabama State Guard when he was just 15 years old. He earned his commission as an Army Second Lieutenant in 1952 and volunteered for the Korean War where he was awarded the Silver Star for his aggressive leadership and undaunting courage during combat. Nimrod Frazer is a member of the Alabama Business Hall of Fame and the author of Send the Alabamians, World War I Fighters of the Rainbow Division.
Following the outdoor ceremony, the MMI Corps of Cadets conducted a noon pass in review honoring the two inductees. Special guests were then treated to a luncheon at the Paul B. Robinson Excess House.
Established in 1975 by Gov. Wallace's executive order, the Alabama Military Hall of Honor (AMHOH) was created as a means to honor Alabama's military heroes and to provide a permanent and visible tribute to them. In 2009 state legislation permanently established AMHOH as a state agency.