Cadets participate in Poverty Simulation with Judson College students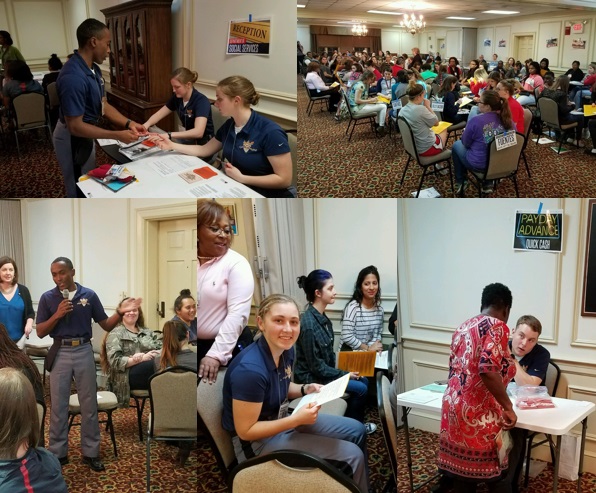 On the night of Thurs., Jan. 12, MMI cadets participated with Judson students and local community members in a Poverty Simulation held at Judson College. Poverty is a reality for many individuals and families. But unless you've experienced poverty, it's difficult to truly understand. The Community Action Poverty Simulation (CAPS) bridges that gap from misconception to understanding. CAPS is an interactive immersion experience. It sensitizes community participants to the realities of poverty. Its goals are to promote poverty awareness, increase understanding and inspire local change.  In the simulation participants role play a month in the life of an economically challenged family in their struggles to pay the bills and meet family obligations. The simulation was hosted by Judson College and included close to 100 students and local community members.  Cadets Amanda Rylee, Hannah Maynard Haley Howard, DeVante Robinson and Joshua Edgar represented MMI.  In addition to having fun playing their various roles, the cadets were unanimous in their praise for the impact of the simulation.  It really opened their eyes to the realities of the great hardships families in desperate economic situations face on a daily basis. The simulation consisted of around 100 students and community members role playing over 10 families and service providers. Pictured: 
Cadet DeVante Jones provides a brief back to the participants on the challenges his character faced during the simulation.
Cadets Rylee and Maynard represented the Social Services Office from which participants would seek assistance
Cadet Edgar selling transportation vouchers to role players
Cadet Howard "attending school" during the role play