New Academic Success Center closes fall semester with Final Blitz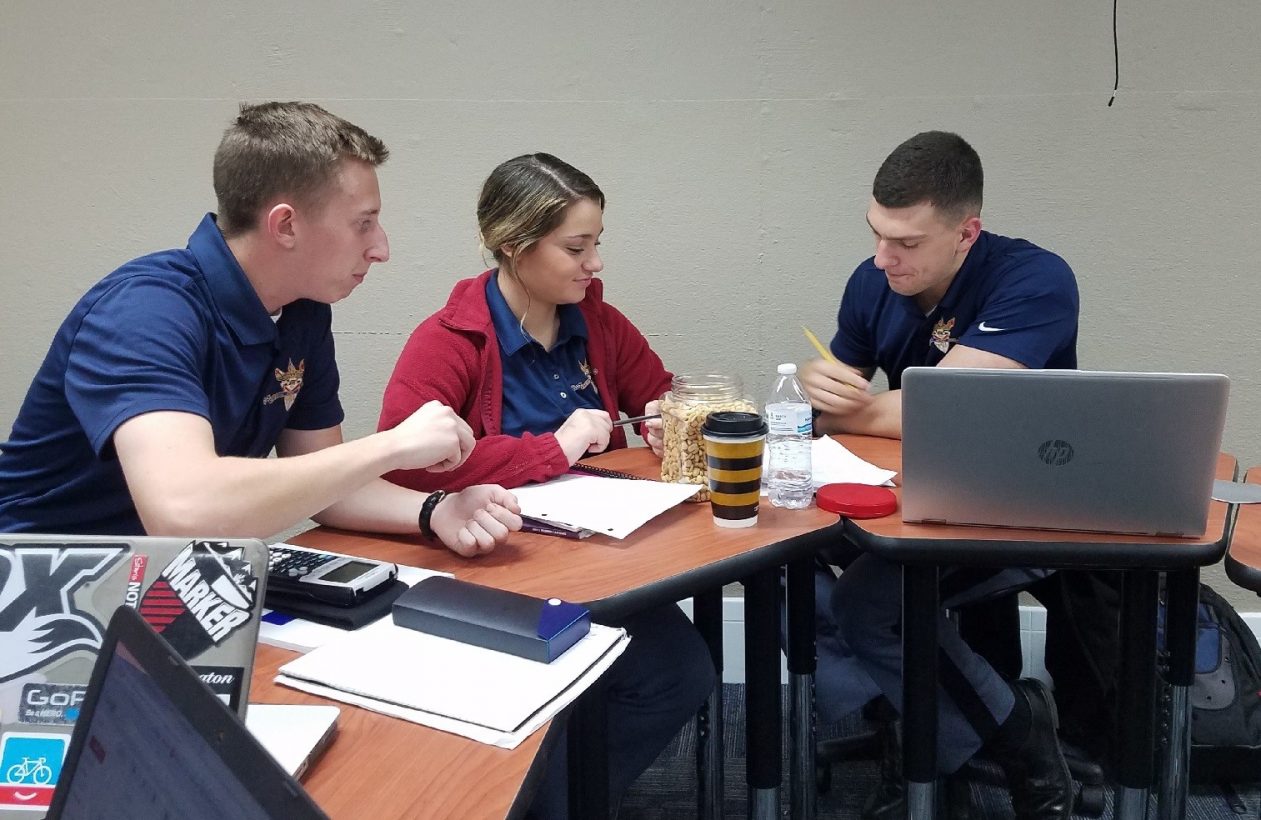 Marion Military Institute's Academic Success Center opened in October of this year.     The establishment of the Center was made possible by a federal Title III grant under the Strengthening Institutions Program.   The grant will provide $1.9 million over a five-year period with college contributions to the project amounting to over $600 thousand, indicating federal support to the program of 76 percent and institutional support of 24 percent.   Services provided through the Center encompass various retention-focused activities including tutoring, development and provision of academic support workshops, advisor training, and faculty professional development. 
The Center employs a full-time math specialist, writing specialist/activities director, administrative assistant, and a half-time director and technology specialist.    The Center, which is located on the bottom floor of Baer Memorial Library, is housed in 2 rooms, each with 12 computers, a printer, and desks and chairs, all of which are mobile and can be arranged so that students may work individually or in groups.    Each room contains a moveable whiteboard that tutors may use when working with students.    Additionally, grant funds have provided the opportunity for the College to purchase Starfish, an early alert system that will aid in timely notification of students who may be experiencing difficulty and who could benefit from Center services. In the Center's first month of operation, tutors worked over 300 hours, providing 480 tutoring sessions, including individual and group sessions.  Currently, the Center has tutor services available in writing, literature, all levels of mathematics, physics, chemistry, Spanish, and criminal justice.    Student tutors must be recommended by an MMI faculty member in order to be eligible to tutor in a specific subject area.   The grant also funds professional tutors who hold at least a bachelor's degree in a specific subject area. The Center closed out the fall semester with the "Final Blitz", which was a concentrated tutoring session held on Sunday evening just before exams began.    Tutors, as well as faculty members, were available to assist students and to help them focus on preparation for final exams.